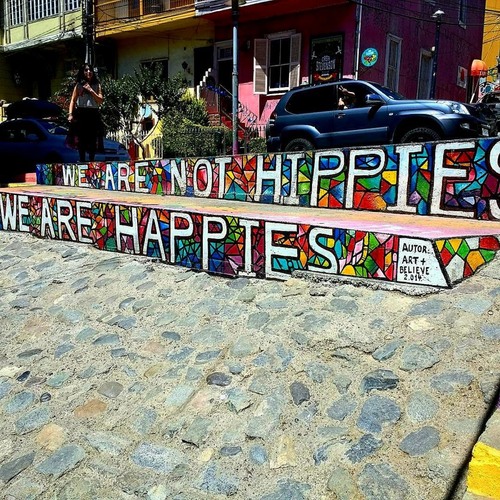 Valparaíso's Mural 'We are not hippies, we are happies' has become a local iconic symbol of the "Chinatown" neighbourhood. It's located in a narrow pedestrian alley, along with some other murals in the area. Artists Eltono and Boa Mistura created this beautiful mural to bring colour and art to the community, with the contribution of many local volunteers. A short walk away, you can find Cerro Alegre, known for its brightly painted houses. If you're looking for an urban landscape park with a breathtaking view of Valparaíso's bay and its surrounding hills, take the funicular to Cerro Concepción.
🏨 ホステル
🌦 気象情報
アプリから天気情報などを取得します。無料でダウンロードしてください!
🚕 そこに着く方法?
アプリからルート情報 (車、徒歩、公共交通機関など) などを入手できます。無料でダウンロードしてください!
💬 提案とコメント
The Mural is at the bottom of the stairs. A block of colored stairs, which contain mini paintings and in turn their sidewalks, leads to the entrances of private houses that show incredible paintings. You will be able to see doors that contain high level of art, or the walls of houses and ceilings as well. It is worth walking around and admiring each house as they have so many murals. The last one is this mural of 'We are not hippies, we are happies'.