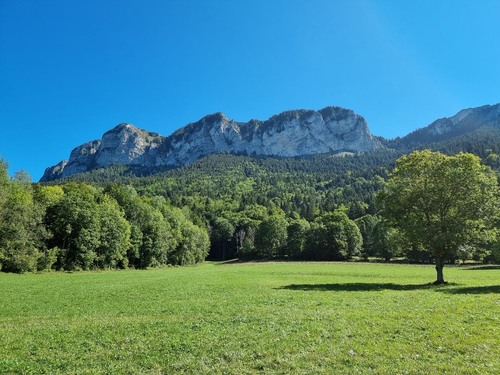 Memises Mountain is an incredible natural landmark in Lugrin, France. The mountain features enormously tall sand cliffs, stunning rocky spires, lush vegetation, and a beautiful lake at its base. It offers an array of recreational activities including walking and biking trails, rock climbing spots, and birdwatching. The view from the top of the mountain is breathtaking with breathtaking panoramic views of the city below and the surrounding hills. Visitors should plan to bring supplies with them for a full day's journey. There is a connecting little cable car that makes the hike up to the summit a much more enjoyable experience. Don't forget to bring a camera as the panoramas from the summit are breathtaking.
🌦 気象情報
アプリから天気情報などを取得します。無料でダウンロードしてください!
🚕 そこに着く方法?
アプリからルート情報 (車、徒歩、公共交通機関など) などを入手できます。無料でダウンロードしてください!
💬 提案とコメント
In this photo we see the mountain les memises from the mountain pastures of Lain and indeed the peak of the memises and on the mountain we do not really see them on the photo
What we see from the Ain is the Memises mountain and indeed there is the Memises peak which is in the center of the mountain at 1676 m.