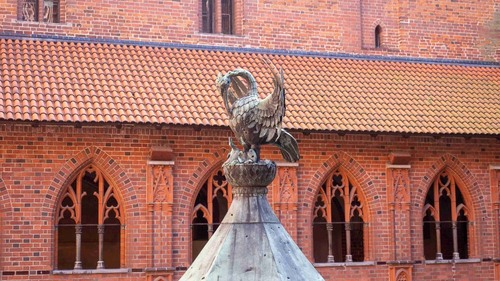 The Top of Fountain in Malbork Castle is one of the most iconic sights in Malbork. Located in the city of Malbork, just 35 kilometres away from the city of Gdansk, the castle is renowned for its architecture and its strategic location at the mouth of the Vistula River. The castle was originally built in the 13th century, and its outer wall is the largest in Europe. It was a stronghold for the Teutonic order and served as the main fortress for the Knights of the Teutonic Order.

The main element of the castle is the grand fountain, located at the highest point of the fortress. It is decorated with a statue of St. John the Baptist, a symbol of chivalry and honor. Its interior courtyard is surrounded by intricately carved stone walls, connecting many towers and turrets. Visitors will enjoy a walk around the castle, admiring its different designs and sounds. From the top of the fountain, visitors can get magnificent views of the castle grounds. So make sure you stop here to enjoy its beauty and grandeur.
🌦 Informasi cuaca
Dapatkan informasi cuaca, dan banyak lagi, dari aplikasi. Unduh secara gratis!
🚕 Bagaimana menuju ke sana?
Dapatkan informasi rute (dengan mobil, jalan kaki, angkutan umum, dll), dan banyak lagi, dari aplikasi. Unduh secara gratis!