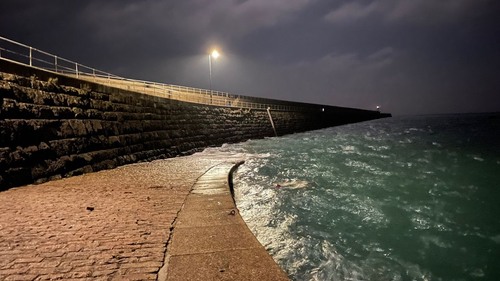 St Catherine's Breakwater is a popular photography spot situated in St Martin, Jersey in the English Channel. Perched on the edge of St Catherine's Bay, the breakwater provides stunning views of the Atlantic Ocean. The star attraction of the spot is the rocky outline of the breakwater which extends into the ocean. It offers breathtaking views of crystal blue waters perfect for capturing unforgettable moments either with a camera or just with the eyes. It is a great place to relax and to enjoy the stunning views of sky, sea and the tranquil waves hitting the rocky shore below. Here you can also watch the mesmerizing sunsets in complete peace and quiet.The promenade of the Breakwater is just a few steps away with the lovely cafes and restaurants located in the port. So have a pleasant time here!
🏨 Hostel
🌦 Informasi cuaca
Dapatkan informasi cuaca, dan banyak lagi, dari aplikasi. Unduh secara gratis!
🚕 Bagaimana menuju ke sana?
Dapatkan informasi rute (dengan mobil, jalan kaki, angkutan umum, dll), dan banyak lagi, dari aplikasi. Unduh secara gratis!