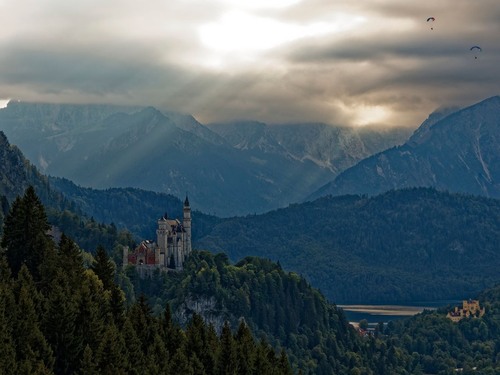 TOP
Schloss Neuschwanstein is an iconic symbol of Germany and beauty of architecture. Nestled among peaks and grassy meadows of Bavaria, the 129 year old castle is of Romanesque Revival style and a wonderful example of 19th-century landscape design. The castle can be reached by a steep road through the woods, with the village of Hohenschwangau lying at the foot of the mountain at the end of the road. The castle is famous for its numerous towers, 19th-century interiors, frescoes and its picturesque views of the surrounding countryside. Moreover, the castle served as an inspiration to Walt Disney in creating his own fairytale castles. For this reason, to this day Neuschwanstein is a very popular tourist attraction, with thousands of visitors per day, so if you want to take full advantage of it, choose to visit either very early or late in the day.
🌦 Informasi cuaca
Dapatkan informasi cuaca, dan banyak lagi, dari aplikasi. Unduh secara gratis!
🚕 Bagaimana menuju ke sana?
Dapatkan informasi rute (dengan mobil, jalan kaki, angkutan umum, dll), dan banyak lagi, dari aplikasi. Unduh secara gratis!