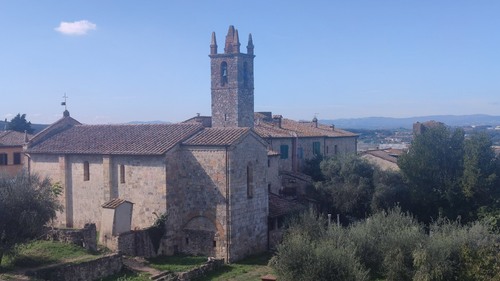 Santa Maria Assunta is a beautiful 12th century Romanesque brick and stone church located in the fortified hill town of Monteriggioni, Tuscany, Italy. Built on the remains of a previous church in the 11th century, the building is said to include remains from the Etruscan period. It is a unique religious creation that boasts a bell tower, impressive rose window and octagonal dome. It is perhaps most famous for its intricate and decorated ceiling, featuring a total of 2,500 glazed terracotta tiles. The interior also features a large wooden statue of the Blessed Virgin Mary. There is also a section with the devotion of the Virgin Mary inside. This meticulously maintained religious structure is the center of social and spiritual life in the community and its beauty will bring you back in time to the days of medieval grandeur.
🌦 Informasi cuaca
Dapatkan informasi cuaca, dan banyak lagi, dari aplikasi. Unduh secara gratis!
🚕 Bagaimana menuju ke sana?
Dapatkan informasi rute (dengan mobil, jalan kaki, angkutan umum, dll), dan banyak lagi, dari aplikasi. Unduh secara gratis!