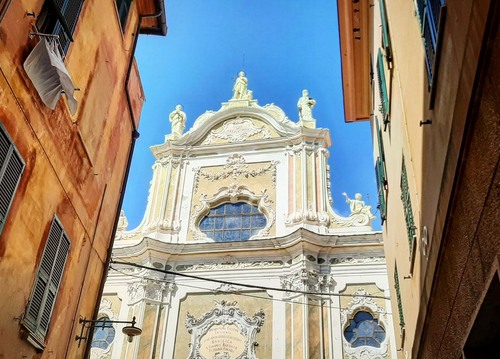 San Giovanni Battista is a small church located in the coastal town of Finale Ligure in north-west Italy. Built in the 16th century, it is best known for its striking bell tower that commands attention from the surrounding gardens, creating a beautiful panoramic view. This Gothic-style building stands as a testament to the area's history, and is a popular tourist destination. Inside you will find a variety of stunning artwork and religious art, with relics from the 17th and 18th centuries. You can take a walk through the peaceful gardens, which offer spectacular views of the sea. Besides exploring the church itself, visitors can also explore the nearby Medieval castle of Finale that overlooks the harbour, or tour the nearby Roman amphitheatre, which dates back to the 1st century BC. There is plenty more to discover in Finale Ligure, such as the historic center, traditional eateries, and beautiful beaches. Local and international events such as festivals and concerts are also held throughout the year.
🏨 Hostel
🌦 Informasi cuaca
Dapatkan informasi cuaca, dan banyak lagi, dari aplikasi. Unduh secara gratis!
🚕 Bagaimana menuju ke sana?
Dapatkan informasi rute (dengan mobil, jalan kaki, angkutan umum, dll), dan banyak lagi, dari aplikasi. Unduh secara gratis!