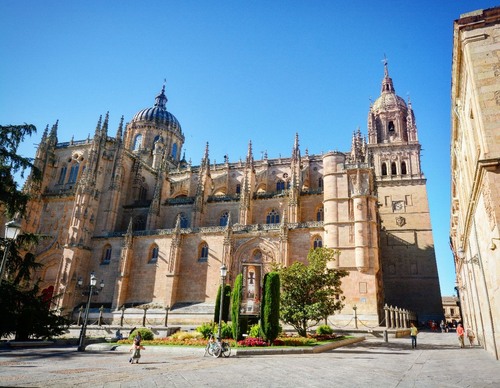 The ancient city of Salamanca in Spain is home to truly remarkable architectural gems; the Salamanca Cathedral is arguably one of the greatest. As you explore the interior, pause to admire its impressive Gothic style. A highlight here is the high altar, filled with a jumble of paintings, sculptures, and carvings. The cathedral is made of two parts – the Old or Romanesque Cathedral, built in the 12th century and the New or Gothic Cathedral, built in the 15th century. In the cloisters, you'll find a serene and peaceful spot, adorned with incredible column sculptures and a myriad of ornate details. Take the time to explore the peaceful tranquil grounds - or go out and explore the entire city, a unique and delightful tapestry of history and culture. Whether through old stone facades, narrow cobblestone streets, or the grand atmosphere of the Plaza Mayor, Salamanca will leave you breathless. Be sure to visit the cathedral for an architectural and historic highlight that you won't soon forget!
🌦 Informasi cuaca
Dapatkan informasi cuaca, dan banyak lagi, dari aplikasi. Unduh secara gratis!
🚕 Bagaimana menuju ke sana?
Dapatkan informasi rute (dengan mobil, jalan kaki, angkutan umum, dll), dan banyak lagi, dari aplikasi. Unduh secara gratis!