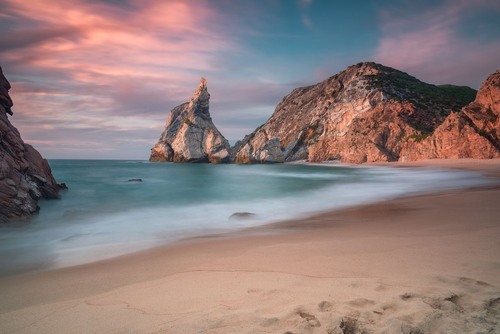 Praia da Ursa is a stunning beach located in Sintra, Portugal, just north of Lisbon. With its rugged and wild cliffs, inviting sandy beaches, and spectacular ocean views, it is a paradise for photographers, adventurers and travelers alike. On a sunny day, the beach is filled with glimmering blues and grays of the Atlantic Ocean, while darker and stormier days offer their own captivating beauty. On clear days, one can catch a glimpse of waves crashing against the coastline. Walks on its pebbled shore offer amazing views of Cabo da Roca, Europe's most western point. The charm of Praia da Ursa lies in its untouched and wild nature, perfect for swimming and long beach walks. During certain periods of the year, the beach is popular for seeing sea turtles coming ashore to breed. It is also a place of magical sunsets that remain in the memory forever. You'll never forget the stunning memories you make at Praia da Ursa.
🌦 Informasi cuaca
Dapatkan informasi cuaca, dan banyak lagi, dari aplikasi. Unduh secara gratis!
🚕 Bagaimana menuju ke sana?
Dapatkan informasi rute (dengan mobil, jalan kaki, angkutan umum, dll), dan banyak lagi, dari aplikasi. Unduh secara gratis!