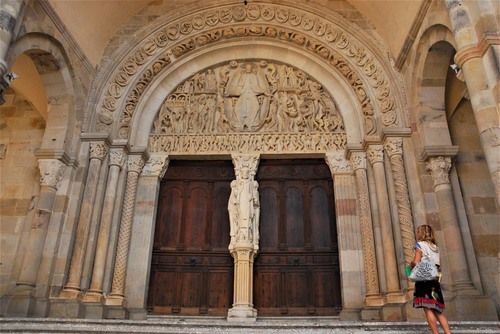 Autun is a historic town in the Bourgogne-Franche-Comté region of central France. The Portale della Cattedrale di Saint Lazare (also known as the Saint Lazare Gate) is its most prominent feature. It was built in the 12th century and is the main entryway of the town's illustrious Saint Lazare Cathedral. The gate is constructed of sandstone and consists of a large central arched doorway and two square towers flanking the entrance. Its surface is decorated with ornamentation, balustrades and sculptures. The archway of the gate has bas-reliefs depicting Old Testament scenes and the tower is decorated with scenes from the New Testament. Statues of prophets decorate the sides of the arch. The gate and cathedral have become a symbol of Autun's rich history and culture. Visitors to Autun will not want to miss the chance to witness this magnificent example of Romanesque architecture.
🌦 Informasi cuaca
Dapatkan informasi cuaca, dan banyak lagi, dari aplikasi. Unduh secara gratis!
🚕 Bagaimana menuju ke sana?
Dapatkan informasi rute (dengan mobil, jalan kaki, angkutan umum, dll), dan banyak lagi, dari aplikasi. Unduh secara gratis!