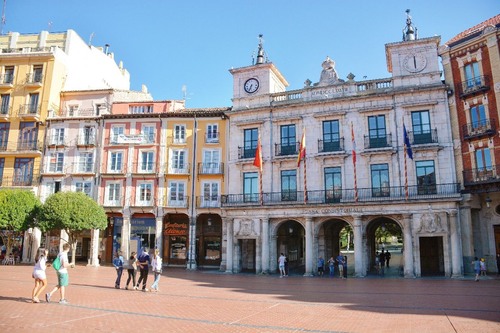 The awe-inspiring Plaza Mayor de Burgos is located in the heart of Burgos, a city with a rich history. It is the main entrance to the city center and was built during the reign of Felipe IV, one of the most important Spanish kings. The square and its surroundings are characterized by brickwork, arcades and patios, magnificent stone statues, and classical-style buildings. On the square, you can visit the Town Hall, the Giraldo Tower, and the San Gil Portal, which is made from distinctive red and white stone. There are lots of sites and activities to enjoy in and around the plaza, such as tasting the local delicacies at the old market of the square or visiting the stunning depictions in the "Santuario de San Antonio de Padua". It is a beautiful spot for sightseeing and shopping, and you can truly immerse yourself in the history and culture of Burgos.
🌦 Informasi cuaca
Dapatkan informasi cuaca, dan banyak lagi, dari aplikasi. Unduh secara gratis!
🚕 Bagaimana menuju ke sana?
Dapatkan informasi rute (dengan mobil, jalan kaki, angkutan umum, dll), dan banyak lagi, dari aplikasi. Unduh secara gratis!