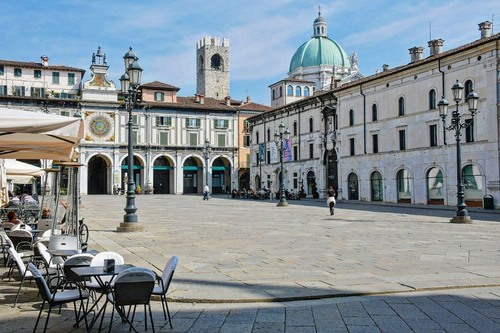 Piazza della Loggia is a beautiful piazza located in the heart of Brescia, Italy. It is the main political, cultural and religious center of the city and is surrounded by important monuments and landmarks. Standing in the center of the square is the Loggia di Fra Jano. Built between 1543 and 1550, this two-storey building was a former meeting place for important families of the city and is now a museum. The surrounding arches and columns add to the grandiose look of the piazza, making for some beautiful photos. Palazzo delle Logge, another important building of the city, is also located on the square. The palace is the official residence of the notaries of the city and often contains art exhibitions. To the east of the Palazzo is the Ghirlandina Torre, while other monuments such as the Nortmanni Mausoleum and the Ramazzini Temple also occupy the square. Visitors to the square are sure to appreciate its remarkable blend of medieval and renaissance architecture and monuments.
🏨 Hostel
🌦 Informasi cuaca
Dapatkan informasi cuaca, dan banyak lagi, dari aplikasi. Unduh secara gratis!
🚕 Bagaimana menuju ke sana?
Dapatkan informasi rute (dengan mobil, jalan kaki, angkutan umum, dll), dan banyak lagi, dari aplikasi. Unduh secara gratis!