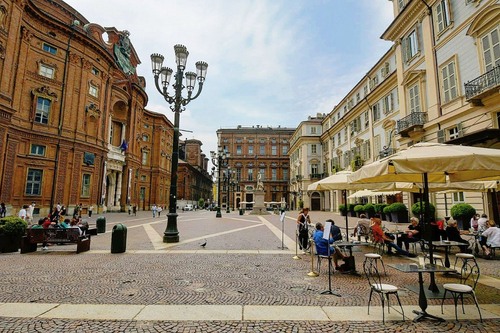 Piazza Carignano is an iconic public square in Torino, Italy, framed by the classic Italian architecture that is typical of the city. Located in the heart of Torino's historic city center, the square boasts centuries of art and cultural history. Along the perimeter are several of Torino's famous Baroque and Rococo palaces, including the Palazzo Carignano, home to the first Italian parliament which declared the unification of the Kingdom of Italy in 1861. Adjacent to the square is the world-famous Mole Antonelliana, Torino's most recognizable monument and one of the symbols of Italy. From the square you can take a funicular to the top of the Mole Antonelliana for a spectacular view of the city skyline. Inside the Mole Antonelliana is the National Museum of Cinema. Near Piazza Carignano lies the Piazza Castello, Torino's main square with its 19th-century Royal Palace which is the official residence of the Italian royal family. Exploring the area around the Piazza Carignano is a great way to see the most significant aspects of Torino's rich and varied history.
🏨 Hostel
🌦 Informasi cuaca
Dapatkan informasi cuaca, dan banyak lagi, dari aplikasi. Unduh secara gratis!
🚕 Bagaimana menuju ke sana?
Dapatkan informasi rute (dengan mobil, jalan kaki, angkutan umum, dll), dan banyak lagi, dari aplikasi. Unduh secara gratis!