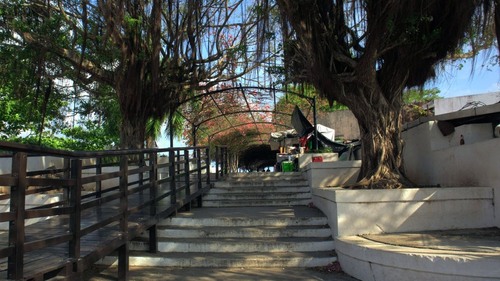 Paseo Esteban Huertas, located in the northernmost sector of Casco Antiguo in Panamá, Panama is a great spot for travelers and photographers alike. Here you'll find a variety of shops, restaurants, bars, and colorful colonial-style buildings. Take a stroll down the inspiring Cinta Costera, the 2km-long oceanfront road, and discover the wonderful monuments and sculptures which reflect the wave of growth which the country is experiencing. Relax in the Parque O'Farrill, the city's premier green space with countless places to sit, and observe how the locals move through the city. Meander into the narrow and charming cobblestone streets of the Old Town, where you can find yourself in a place seemingly untouched by time. Try the delicious array of Panamanian dishes in the many local eateries around; be sure to sample a 'chicheme' - a fermented corn-based drink! Explore and discover the rich cultural and historical heritage of the area, learning more about the historic Panama Canal and the city's prominent place in world history.
🏨 Hostel
🌦 Informasi cuaca
Dapatkan informasi cuaca, dan banyak lagi, dari aplikasi. Unduh secara gratis!
🚕 Bagaimana menuju ke sana?
Dapatkan informasi rute (dengan mobil, jalan kaki, angkutan umum, dll), dan banyak lagi, dari aplikasi. Unduh secara gratis!