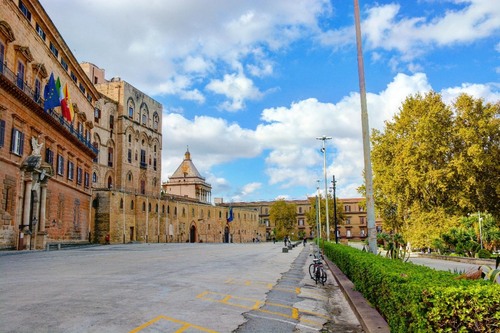 Palazzo Reale e Cappella Palatina is one of the monuments that stands out in Palermo, Italy. Palazzo Reale, which is known as the Royal Palace, was built in 1140 on the orders of King Roger II of Sicily. The palace, a mixture of Islamic and lombard influences, has been home to a variety of monarchs throughout the past centuries and is now open to the public.

The Cappella Palatina, which is known as the Palatine Chapel, is located in the palace, and is another impressive monument in Palermo. It was built between 1132 and 1140 and is home to some of the most important mosaics in Italy. Intricate mosaics cover almost every inch of the walls and ceiling, making it a unique and truly breathtaking sight. As you explore the grounds of the palace, you will find plenty of interesting places to marvel at, such as the Arab-Norman Palatine Chapel, the Lavatory of Manfredi, the Treasury, and much more.
🌦 Informasi cuaca
Dapatkan informasi cuaca, dan banyak lagi, dari aplikasi. Unduh secara gratis!
🚕 Bagaimana menuju ke sana?
Dapatkan informasi rute (dengan mobil, jalan kaki, angkutan umum, dll), dan banyak lagi, dari aplikasi. Unduh secara gratis!