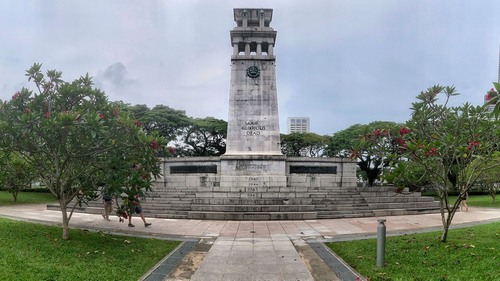 Our Glorious Dead Monument in Singapore is an awe-inspiring structure in the heart of the city. Built in 1969, this striking structure was designed by the late, great British architect Fritz Eisenhofer. He intended the memorial to honour the fallen soldiers of Singapore in World War II and the Korean War.

Visitors to the Our Glorious Dead Monument are welcomed by a striking, eight-metre-high central concrete spire surrounded by two gold-painted towers with curved roofs, standing atop an elevated white masonry terrace. On either side of the spire are two groups of three granite slabs, each of which bears the inscription of fallen soldiers. The Our Glorious Dead Monument is set in a magnificent 58,000 sq. metre park with a serene pond and manicured landscaping featuring native plants and trees. This tranquil spot offers the perfect opportunity to relax and admire this architectural tribute whilst still being connected with nature. Furthermore, depending on the time of year, visitors may also find themselves exploring the park at the same time as migratory birds which pass through on their way to Indonesia. Visitors should also not miss out on the informative visitors centre located in the park, which offers a detailed history of the memorial, its architecture and its significance in the community.
🏨 Hostel
🌦 Informasi cuaca
Dapatkan informasi cuaca, dan banyak lagi, dari aplikasi. Unduh secara gratis!
🚕 Bagaimana menuju ke sana?
Dapatkan informasi rute (dengan mobil, jalan kaki, angkutan umum, dll), dan banyak lagi, dari aplikasi. Unduh secara gratis!