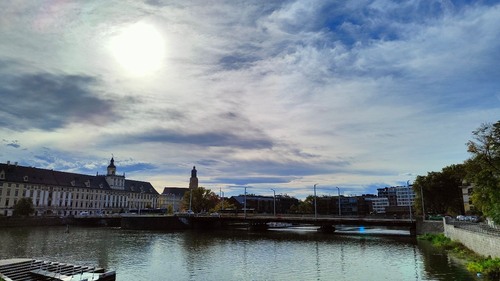 The Odra River (known as Oder River in Germany) is a major river in Central Europe, flowing through Germany and Poland. It is one of the longest rivers in the region, rising over 1,000 km and passing through hundreds of towns. In Wrocław, the Odra is a popular spot to relax, with many locals gathering on the banks to socialize, read, sunbathe, and play in the small sandy beaches. For some of the best views in the city, try out the "Chabrowy Bridge", which crosses the river near Apteka Bazylika. Be sure to explore the historic buildings and churches that line the river banks in Wrocław, and take a stroll along the nearby promenade leading to the city center. The Odra is also home to a variety of aquatic wildlife. The extensive selection of bird species, crocodiles, and exotic plants attract locals and tourists alike. Don't forget to bring your camera, as the river and its surroundings offer stunning photographic opportunities.
🌦 Informasi cuaca
Dapatkan informasi cuaca, dan banyak lagi, dari aplikasi. Unduh secara gratis!
🚕 Bagaimana menuju ke sana?
Dapatkan informasi rute (dengan mobil, jalan kaki, angkutan umum, dll), dan banyak lagi, dari aplikasi. Unduh secara gratis!