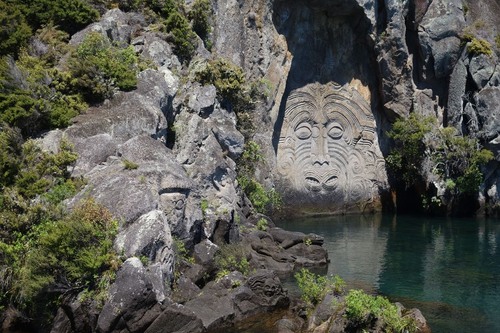 TOP
Mine Bay Maori Rock Carvings, located in the pristine waters of Lake Taupo in New Zealand, are one of the most unique landmarks you can visit in New Zealand. Overlooking one of the most beautiful lakes in the world, it is a breathtakingly stunning sight from the vantage point of a boat ride or from the shore. The carvings, created by the indigenous Maori people over 500 years ago, depict an ancestor who was committed to his eternal rest. The most remarkable feature of the carvings is its huge size--the profile of the ancestor is about 14 meters high. On your visit, you will see various carvings on the walls such as fish, lizards, and palms. The place is sacred to local people and the views of it are truly mesmerizing. To get to the carvings, visitors should take the boat trip from Aratiatia Rapids. Take a picnic and spend the day exploring this stunning sight!
🏨 Hostel
🌦 Informasi cuaca
Dapatkan informasi cuaca, dan banyak lagi, dari aplikasi. Unduh secara gratis!
🚕 Bagaimana menuju ke sana?
Dapatkan informasi rute (dengan mobil, jalan kaki, angkutan umum, dll), dan banyak lagi, dari aplikasi. Unduh secara gratis!