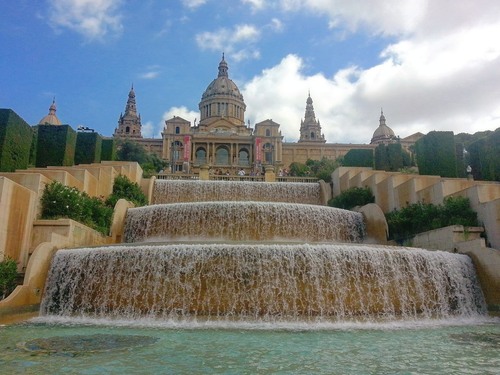 The Magic Fountain of Montjuïc is a spectacular monument located in the beautiful city of Barcelona. It is situated in front of the National Museum of Art of Catalonia and it is a great example of modernist architectural style. The fountain is a symbol of the city and it was originally built for the 1929 International Exposition in Barcelona.

It is now a popular tourist attraction, as it is located in the vibrant city center and it is a unique sight to witness. The fountain is composed of a central pool, four smaller cascades, and a wealth of decorative sculptures, all illuminated by multicolored lights that are spread all around. The fountain is breathtaking and its colors are mesmerizing. The fountain also has a great sound show, with music and lights choreographies. It is said to be the most impressive one in the world. Visitors can enjoy the show with a spectacular view of the National Palace of Montjuïc. The Magic Fountain is definitely worth a visit and a great way to end a tour through Barcelona.
🌦 Informasi cuaca
Dapatkan informasi cuaca, dan banyak lagi, dari aplikasi. Unduh secara gratis!
🚕 Bagaimana menuju ke sana?
Dapatkan informasi rute (dengan mobil, jalan kaki, angkutan umum, dll), dan banyak lagi, dari aplikasi. Unduh secara gratis!