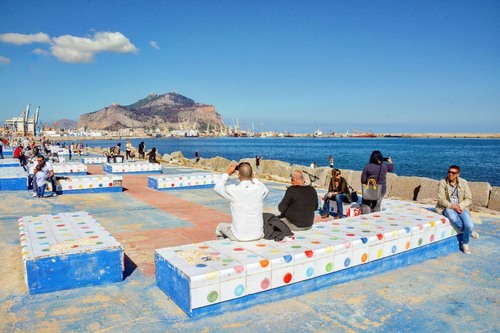 The 'Letti di ceramica' or 'Tile beds,' located in the heart of Palermo, Italy, are iconic landmarks of the city. They are situated just outside the entrance of the 'Casa della Ceramica', which was the old tile factory of Palermo. The beds consist of tiles in bright shades of blue, yellow, pink and green. The main attraction is the main wall of the 'Letti di ceramica', which is covered with various pictures and tiles. The bright, colourful graphics and tiles make an interesting contrast with the white walls surrounding them. Take a stroll through the streets of Palermo and you'll be sure to find this incredible sight. Explore the tile beds and surround yourself with the decorative artwork that adorns its walls. A beautiful reminder of the craft of Palermo's artisans and its long tile-making tradition.
🌦 Informasi cuaca
Dapatkan informasi cuaca, dan banyak lagi, dari aplikasi. Unduh secara gratis!
🚕 Bagaimana menuju ke sana?
Dapatkan informasi rute (dengan mobil, jalan kaki, angkutan umum, dll), dan banyak lagi, dari aplikasi. Unduh secara gratis!