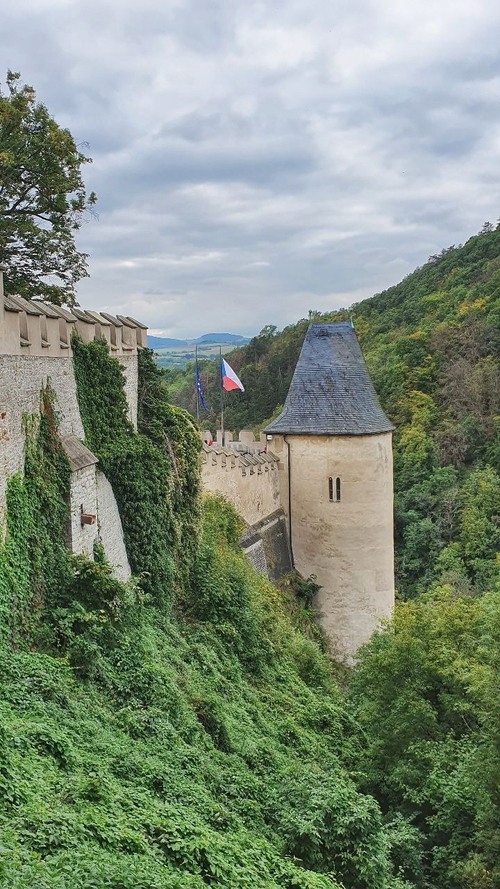 Karlštejn Castle is a Gothic castle founded in 1348 by the Czech King and Roman Emperor Charles IV. During its long history, the castle served as a treasury of the Holy Roman Empire and later as a symbol of Czech statehood. The castle is composed of three parts: the Great Tower, the Imperial Palace and the Marian Tower. The Great Tower is a 42-meters-high structure dominating the whole complex. The Imperial Palace, located in the upper part of the castle, is a three-story building surrounded by walls. The Marian Tower, located to the east of the castle, houses a collection of precious religious artifacts from the 16th century. All the buildings in the castle are connected by several corridors and doorways with a total fountain courtyard. Visitors to the castle can enjoy guided tours and learn about the rich history and architecture of this amazing object. Karlštejn castle is one of one of the Czech Republic's most popular landmarks, and its landmark status is easy to understand.
🌦 Informasi cuaca
Dapatkan informasi cuaca, dan banyak lagi, dari aplikasi. Unduh secara gratis!
🚕 Bagaimana menuju ke sana?
Dapatkan informasi rute (dengan mobil, jalan kaki, angkutan umum, dll), dan banyak lagi, dari aplikasi. Unduh secara gratis!