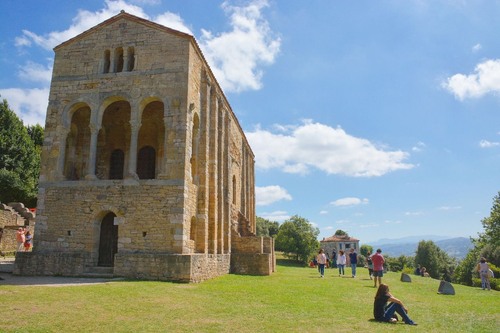 The Iglesia de Santa María del Naranco, situated in the Principality of Asturias in Spain, is an ancient and beautiful pre-Romanesque church. Built in the 9th century AD, the structure is made entirely of stone and features efficient and captivating geometric designs. It is now part of a World Heritage Site and provides both travelers and photographers with ample opportunities for exploration and photography. This elegant church is a perfect example of Asturian architecture, with iconic stone pillars and typical Romanesque arches. Inside, it houses an ornate baroque altarpiece and a wide range of ancient religious art. Its exterior also includes a chapel, valuable murals, and sculptures. Overall, it is a stunning and important site and is a must-see for anyone interested in exploring Spanish history and culture.
🏨 Hostel
🌦 Informasi cuaca
Dapatkan informasi cuaca, dan banyak lagi, dari aplikasi. Unduh secara gratis!
🚕 Bagaimana menuju ke sana?
Dapatkan informasi rute (dengan mobil, jalan kaki, angkutan umum, dll), dan banyak lagi, dari aplikasi. Unduh secara gratis!