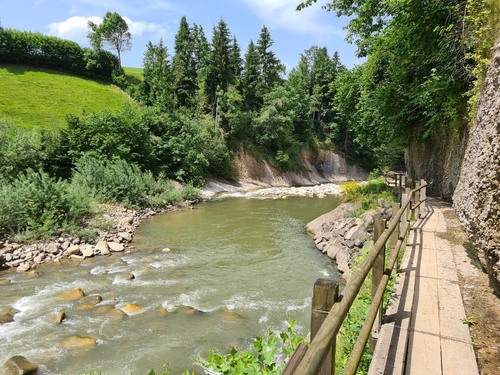 Idyllischer Wanderweg bei Entlebuch is a beautiful scenic walking trail located in Entlebuch, Switzerland. It is an easy-to-follow 5.8km loop track and usually takes around 2-3 hours to complete. It starts in Entlebuch and follows a natural route through the Luzerner Alps, offering a variety of splendid mountain views. Flora and fauna abound along the trail, giving you a chance to spot eagles, weasels, and ibex. You will also find several Alpine huts, barns and mountain pastures along the way. Hikers have the option of following the loop marked by red and white painted stones, or they can take one of four different variations. There is something here for everyone, as the route is suitable both for amateur and professional hikers alike. Remember to take plenty of water and snacks, as there are no restaurants or shops along the way.
🌦 Informasi cuaca
Dapatkan informasi cuaca, dan banyak lagi, dari aplikasi. Unduh secara gratis!
🚕 Bagaimana menuju ke sana?
Dapatkan informasi rute (dengan mobil, jalan kaki, angkutan umum, dll), dan banyak lagi, dari aplikasi. Unduh secara gratis!