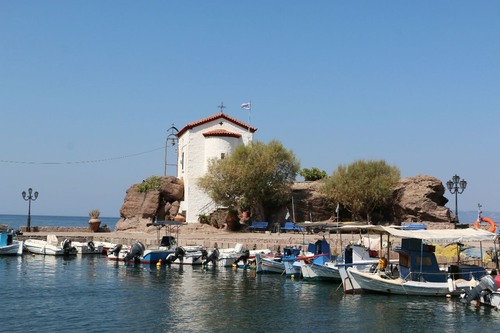 Located in the Lesvos Island of Greece, the Harbour of Skala Sikamineas is a picture of timeless beauty. It is said to be the port of choice historically for pirates and smugglers. What remains of the beautiful harbour is a small fishing port surrounded by colourful wood-framed white houses. A stroll along the old harbour is a delight, with cobblestone pathways leading up to boulevards filled with olive trees and stunning views of the North Aegean Sea. Here you can also admire traditional Lesvos architecture, captivating churches and the magnificent sunset each night. A popular activity here is to take a boat ride and tour around the harbour for some stunning photographs. Exploring the narrow alleyways of the village and its picturesque harbours will be an unforgettable experience.
🏨 Hostel
🌦 Informasi cuaca
Dapatkan informasi cuaca, dan banyak lagi, dari aplikasi. Unduh secara gratis!
🚕 Bagaimana menuju ke sana?
Dapatkan informasi rute (dengan mobil, jalan kaki, angkutan umum, dll), dan banyak lagi, dari aplikasi. Unduh secara gratis!