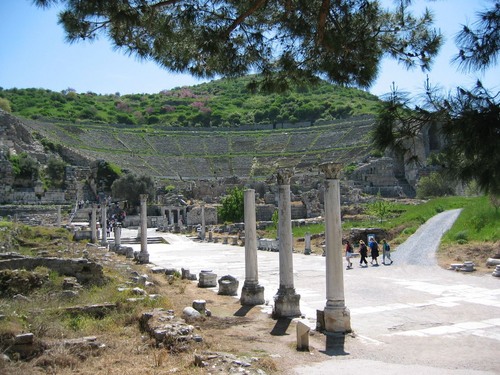 The Ephesus Ancient Greek Theatre, located in the ancient city of Ephesus, Turkey, is a must-see for photographers and travelers alike. Its breathtaking regal architecture, stunning acoustics and dramatic past will mesmerize you. Built in the 3rd century BC, this theatre is the largest of its kind in the world, seating up to 25,000 spectators. Ephesus was once a great city, home to one of the seven wonders of the ancient world - the Temple of Artemis. Preserved ruins from this city, including the theatre, have begun to attract tourists over the years. The theatre has an impressive set of tiers and a semicircular stage, built with astounding precision and made to echo sound perfectly. Even today, concerts and theatrical performances may be seen here. If you are a traveler or a photographer, this theatre is a must-see.
🌦 Informasi cuaca
Dapatkan informasi cuaca, dan banyak lagi, dari aplikasi. Unduh secara gratis!
🚕 Bagaimana menuju ke sana?
Dapatkan informasi rute (dengan mobil, jalan kaki, angkutan umum, dll), dan banyak lagi, dari aplikasi. Unduh secara gratis!