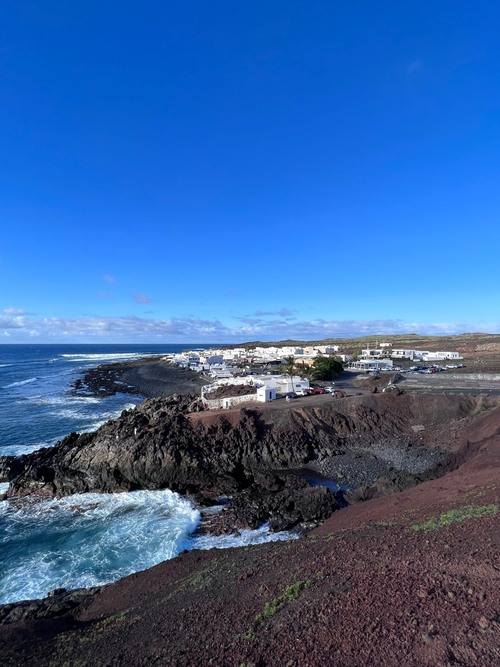 Located in the Canary Islands, El Golfo and Lanzarote are two picturesque and rugged coastal sites along the Atlantic Ocean in the municipality of Yaiza, Spain.

El Golfo is a delightful fishing village set on the cliffs and is a great base for exploring the area around. It is known for its unique green lagoon, which was formed after a volcanic eruption in 1800. This gorgeous spot stands in contrast with the rest of the La Geria wine region, which is covered in reddish soil and dotted with vineyards. Other nearby places of interest include the Cueva de los Verdes, an underground lava tube with an exciting history, and the volcanic crater called Los Hervideros, which has spectacular rock formations. Lanzarote, situated not far away, is known for its stunning volcanic landscapes, turquoise waters and secluded white sand beaches. The Timanfaya National Park is arguably the island's most wonderful attraction, with its vast area of barren vineyards and massive lunar-like craters. Besides, Los Jameos del Agua, a submerged cave with a crystal-clear lake inside, is a must-see. For more rustic experience, the La Geria area offers some of the most unique wine cultivation techniques in the world. Whether you want to admire green lagoons, hike volcanic landscapes or enjoy a glass of local wine, El Golfo and Lanzarote are the perfect destination for young travelers and photographers.
🌦 Informasi cuaca
Dapatkan informasi cuaca, dan banyak lagi, dari aplikasi. Unduh secara gratis!
🚕 Bagaimana menuju ke sana?
Dapatkan informasi rute (dengan mobil, jalan kaki, angkutan umum, dll), dan banyak lagi, dari aplikasi. Unduh secara gratis!