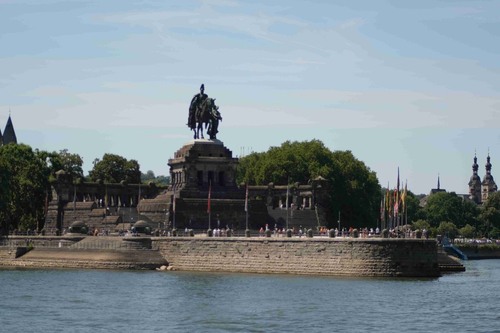 Deutsches Eck (German Corner) is a famous landmark in the city of Koblenz in western Germany. It is located at the confluence of the Rhine and Mosel rivers and is dominated by a colossal equestrian statue of Emperor William I. The waterfront area is a popular tourist spot, especially in summer when it's bustling with activity.

Visitors can follow the paths encircling the core of the Monument Kreuz, a memorial to the unification of Germany, located at the tip of the Deutsches Eck. From here, the views across the Rhine and Mosel rivers are stunning. The distinctive shape of the Deutsches Eck and its statues make it a popular stop for photographers. Boat trips from Koblenz to the Rhine Gorge are a great way to see the Deutsches Eck from the other side of the river. The Monument Kreuz itself is an impressive building with a German eagle perched on its steeple and flags of the former German states flying proudly. Take the chance to explore the Wilhelmplatz area and marvel at the horseback statue of twice-crowned Emperor Wilhelm I.
🌦 Informasi cuaca
Dapatkan informasi cuaca, dan banyak lagi, dari aplikasi. Unduh secara gratis!
🚕 Bagaimana menuju ke sana?
Dapatkan informasi rute (dengan mobil, jalan kaki, angkutan umum, dll), dan banyak lagi, dari aplikasi. Unduh secara gratis!