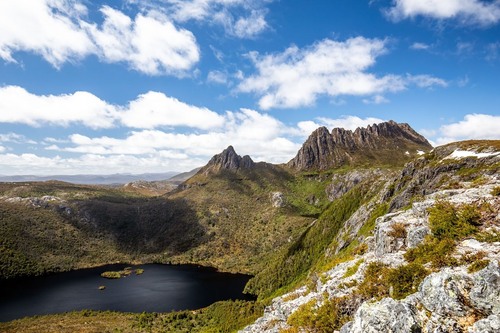 TOP
Cradle Mountain and Dove Lake, located in Cradle Mountain, Australia, is a captivating destination to explore through the ruggedly beautiful landscapes of the Tasmanian Wilderness World Heritage Area. The area boasts of unrivaled views of forrest-covered mountains, alpine moorland, heathland, buttons and fluted rock formations, shimmering lakes and rivers. You can also witness abundant wildlife, including many species of birds, reptiles, and mammals. There are plenty of exciting activities to be enjoyed while there, such as bushwalking, cycling and mountain biking, fishing, camping and skiing in winter. You can even take a horse-riding tour around the area. In addition, the area offers delicious Tasmanian cuisine, unique shops and a plethora of accommodation options to make your visit as comfortable and enjoyable as possible.
🌦 Informasi cuaca
Dapatkan informasi cuaca, dan banyak lagi, dari aplikasi. Unduh secara gratis!
🚕 Bagaimana menuju ke sana?
Dapatkan informasi rute (dengan mobil, jalan kaki, angkutan umum, dll), dan banyak lagi, dari aplikasi. Unduh secara gratis!