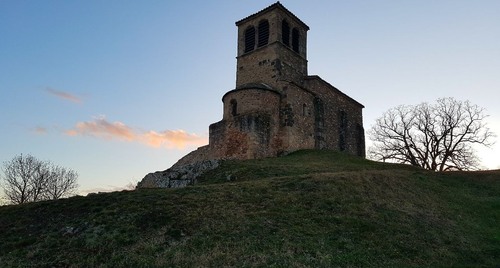 Chapelle Saint-Vincent, in Rontalon, France, is an amazing example of medieval Romanesque architecture. Built in the 12th century, it is the oldest surviving building in the commune and has a remarkable fresco of St. Vincent, dating from 1140, inside. Other decorative frescoes, dating from the 17th century, also adorn the chapel. Inside, visitors can find beautiful stained glass windows, sacred figures, and a number of religious artefacts. The chapel also has an old bell tower on its south side, which adds a unique touch to the overall aesthetics of the building. On the outside, a cloister featuring limestone arches surrounds the chapel, providing a wonderful atmosphere to explore and admire the area. The chapel makes for a great place to come and appreciate the beauty of nature and the rich cultural heritage of the area.
🌦 Informasi cuaca
Dapatkan informasi cuaca, dan banyak lagi, dari aplikasi. Unduh secara gratis!
🚕 Bagaimana menuju ke sana?
Dapatkan informasi rute (dengan mobil, jalan kaki, angkutan umum, dll), dan banyak lagi, dari aplikasi. Unduh secara gratis!