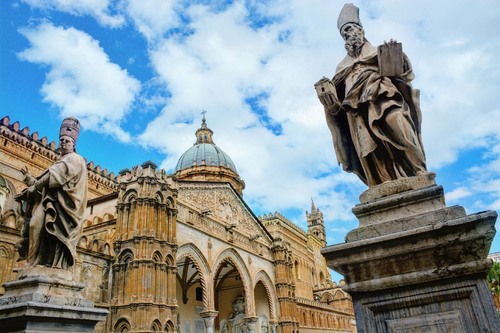 The Cattedrale di Palermo, located in Palermo, Italy, is an impressive baroque-style church, designed in the late 17th century. It was built in the spot where the earlier Palatine Chapel, built for William I of Sicily, once stood. The church, which was built with Baroque influences, has a soaring golden dome and centuries-old marble columns. Inside the church, visitors can admire several paintings, ornamental altars and stained glass windows. The cathedral also holds the Palatine Chapel, noted for its Byzantine-Arabic art, and the Medici Library, with its thousands of books, manuscripts, and artwork. The church also houses the tombs of King Roger II and a handful of Palermo's bishops. Visitors can also admire the broad façade and the marble staircase, adding to the grandeur of the building. Be sure to take a walk in the churchyard, where you can see the tomb of Queen Constance, the daughter of Roger II.
🌦 Informasi cuaca
Dapatkan informasi cuaca, dan banyak lagi, dari aplikasi. Unduh secara gratis!
🚕 Bagaimana menuju ke sana?
Dapatkan informasi rute (dengan mobil, jalan kaki, angkutan umum, dll), dan banyak lagi, dari aplikasi. Unduh secara gratis!