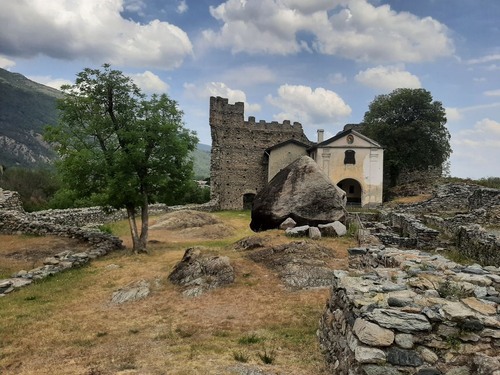 Centrally located in the beautiful Val di Susa region of the Italian Alps, Castello del Conte Verde sits atop a hill in the tiny village of Condove. First constructed in 1314 and expanded over the centuries, the castle was the residence of the Dukes of the Savoy and then, later, the Council of Verde until the beginning of the 17th century. Its sturdy walls, turreted towers and charming cobblestone courtyard make it one of the most impressive attractions in the area. Not to be missed is the grandiose chapel, displaying opulent late-Baroque stuccos, ceiling frescoes, and an incredible life-sized nativity scene. The terraces with spectacular views of the Alps, the enchanting park, and the original defensive walls further confirm the castle's past status and grandeur. Visitors are able to explore the outer courtyard and towers throughout the year, while the castle interiors are open to visitors during some summer weekends.

Encircled by green hills, forests, and vineyards, picturesque Condove is home to an array of shops, quaint cafes, and a few fine restaurants and bars. The town's location also lends itself wonderfully to an array of outdoor activities, such as skiing, hiking, cycling, and more.
🏨 Hostel
🌦 Informasi cuaca
Dapatkan informasi cuaca, dan banyak lagi, dari aplikasi. Unduh secara gratis!
🚕 Bagaimana menuju ke sana?
Dapatkan informasi rute (dengan mobil, jalan kaki, angkutan umum, dll), dan banyak lagi, dari aplikasi. Unduh secara gratis!