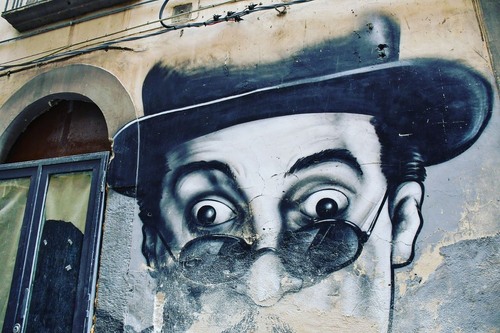 Casa natale di Totò, the birth place of renowned Italian play-writer and actor of the same name, is located on Via Santa Maria Antesaecula in the heart of Naples. This two-story home, built in 1716, is a fine example of 18th century Neapolitan architecture. It has an interior courtyard surrounded by arches and ornamental railings that lead to the residence. Inside the home, visitors will find many of the actor's personal belongings, from furniture and sculptures to paintings and photographs. Although admission to the house is strictly by appointment, viewing the exterior of the house is recommended for those interested in Neapolitan history. The house is surrounded by a cloister, with stone steps on either side providing a picturesque setting for visitors. Via Santa Maria Antesaecula is a narrow, cobblestoned street in the center of Naples, not far from many well known tourist attractions. This street is a celebrated example of Neapolitan urban culture with its low houses and balconies, draped with colorful laundry. It provides a pleasant walk and opportunity to experience the culture and history of the area.
🏨 Hostel
🌦 Informasi cuaca
Dapatkan informasi cuaca, dan banyak lagi, dari aplikasi. Unduh secara gratis!
🚕 Bagaimana menuju ke sana?
Dapatkan informasi rute (dengan mobil, jalan kaki, angkutan umum, dll), dan banyak lagi, dari aplikasi. Unduh secara gratis!