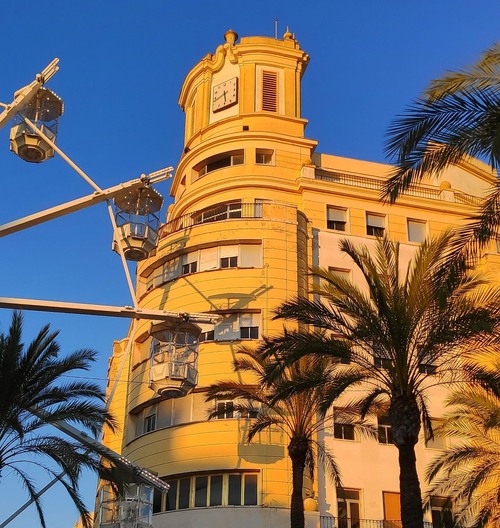 CaixaBank Plaza del Arenal in Jerez de la Frontera, Spain, is a stunning public space that every traveler should visit. Located right in the heart of Jerez de la Frontera, near the Alcazar, it is a serene oasis within the otherwise bustling city. The plaza is home to a beautiful, large bronze fountain, several benches, and lots of trees, providing plenty of shade. There is a delicious cafe inviting you to enjoy its outdoor space while sipping a cup of coffee, overlooking one of the most beautiful plazas in Jerez. Furthermore, the complex houses the distinctive CaixaBank building, with a beautiful neo-mudejar façade. Visitors can admire the intricate half-timbered roof, modeled after the traditional housing of Jerez. Thus, CaixaBank Plaza del Arenal is the perfect spot for travelers to not only relax, but also appreciate the cultural and architectural Highlights of Jerez de la Frontera.
🌦 Informasi cuaca
Dapatkan informasi cuaca, dan banyak lagi, dari aplikasi. Unduh secara gratis!
🚕 Bagaimana menuju ke sana?
Dapatkan informasi rute (dengan mobil, jalan kaki, angkutan umum, dll), dan banyak lagi, dari aplikasi. Unduh secara gratis!