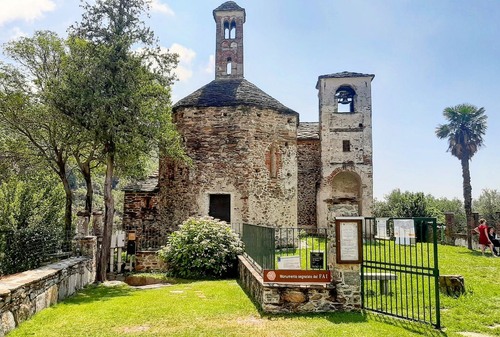 The Battistero San Giovanni, in Settimo Vittone (Turin), Italy, is a beautiful Early Romanesque style baptistery, dating back to the late 11th or early 12th Century. This small and simple chapel displays some interesting features, like the door in Lombard style with a double archivolt, the bilateral staircase leading up to it, as well as the blind arcades in alternating black and white stones decorating the walls. The bell tower is also noteworthy, taking inspiration from local religious architecture and more distant Romanesque and Gothic styles. The interior of the church features a few interesting frescoes, even though the majority of decorations have been lost in the passing of the centuries. A visit to Battistero San Giovanni is a great way to appreciate Italian religious architecture over the centuries, especially given its secluded location in the small hamlet of Settimo Vittone!
🏨 Hostel
🌦 Informasi cuaca
Dapatkan informasi cuaca, dan banyak lagi, dari aplikasi. Unduh secara gratis!
🚕 Bagaimana menuju ke sana?
Dapatkan informasi rute (dengan mobil, jalan kaki, angkutan umum, dll), dan banyak lagi, dari aplikasi. Unduh secara gratis!