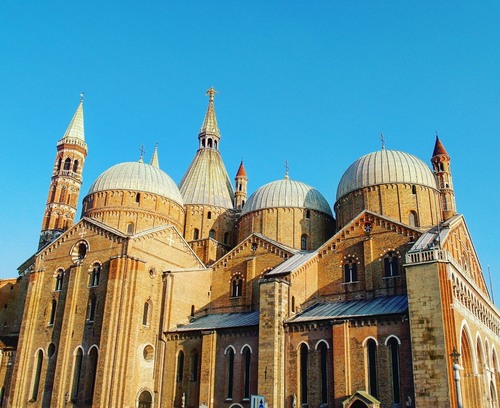 The Basilica di Sant Antonio, also known as the Saint Anthony of Padua, is a famous Roman Catholic Church located in Padua, Italy. The church is dedicated to Saint Anthony, Italy's patron saint, and is one of the most renowned churches in the country. The Church is best known for its impressive dome, almost 90 meters high, and its elegant late-Baroque style architecture. Inside, visitors will find the tomb of St. Anthony and the painting of the Saint's Miracles. On the left side of the basilica stands the 13th century Baptistery, with its byzantine-style mosaics and religious sculptures. The right side is home to the 13th century Cloister. The basilica is a must-see destination for visitors to Italy, and is a crucial part of the city's rich cultural heritage. Every year, it attracts many pilgrims from all over the world who seek to venerate its famous saint.
🏨 Hostel
🌦 Informasi cuaca
Dapatkan informasi cuaca, dan banyak lagi, dari aplikasi. Unduh secara gratis!
🚕 Bagaimana menuju ke sana?
Dapatkan informasi rute (dengan mobil, jalan kaki, angkutan umum, dll), dan banyak lagi, dari aplikasi. Unduh secara gratis!