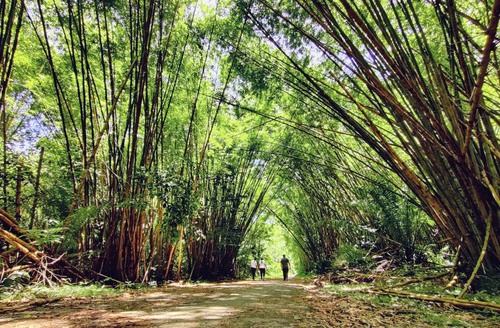 TOP
The Bamboo Cathedral, in Mount Pleasant, Trinidad and Tobago, is a beautiful and unique structure build of giant bamboo poles. It was started as a part of a larger project to develop a Christian retreat center in the mountain. It is a remarkable piece of architecture, with walls, towers and soaring arches crafted of the thick bamboo poles. The Cathedral can accommodate 200 adults and has become a popular place for visitors who want to experience a unique spiritual atmosphere. The impressive and calming atmosphere captures the surrounding luscious greenery, providing a tranquil setting for contemplation and meditation. The grounds are a popular picnic area, offering a nice atmosphere to relax in the lush vegetation as cicadas sing in the background. Visitors can also explore a waterfall just a few minutes away and enjoy breathtaking views of the city from the mountaintop.
🏨 Hostel
🌦 Informasi cuaca
Dapatkan informasi cuaca, dan banyak lagi, dari aplikasi. Unduh secara gratis!
🚕 Bagaimana menuju ke sana?
Dapatkan informasi rute (dengan mobil, jalan kaki, angkutan umum, dll), dan banyak lagi, dari aplikasi. Unduh secara gratis!