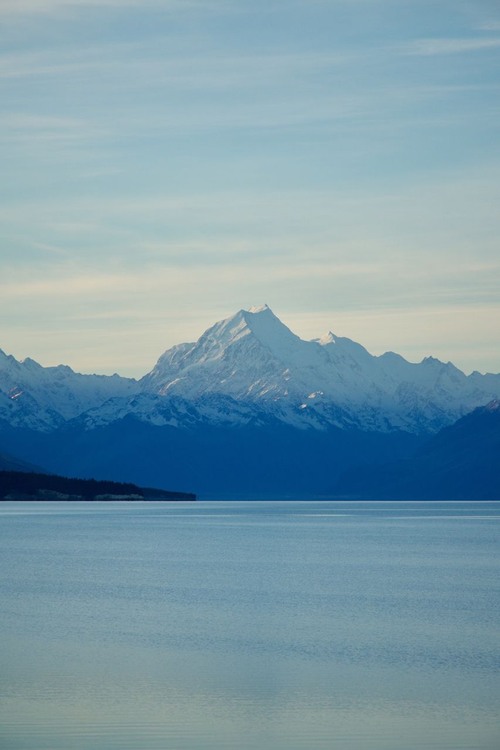 Aoraki Mount Cook is New Zealand's highest peak and a popular tourist sight in the beautiful country's South Island. Standing 3,724 metres above sea level, the mountain forms part of the Southern Alps and its rugged mid-level spire is visible from miles away. The mountain is named after Sir Ernest Shackleton, the late Antarctic explorer who came to New Zealand in 1911.

Surrounding Aoraki Mount Cook is Lake Pukaki, also known as the "Teal Lakes". Pukaki is an artificial lake made by the Tasman River, and it is a stunning sight to behold. The lake is located at the northern edge of the alps, just beneath the main peak of Aoraki Mount Cook. Its waters are a bright glacial blue, the result of rocks and minerals in the Banks Peninsula area filtering the Tasman River's flow into the lake. With the backdrop of The Alps, the scene of Lake Pukaki, coupled with stands of beech forest and the distant view of the Tasman Sea, provides a picturesque setting and a memorable experience. Its surrounding valleys shelter some of New Zealand's incredible higest quality of hiking trails and backcountry adventures. All in all, Aoraki Mount Cook and Lake Pukaki are undoubtedly two of the South Island's more unforgettable natural attractions.
🏨 Hostel
🌦 Informasi cuaca
Dapatkan informasi cuaca, dan banyak lagi, dari aplikasi. Unduh secara gratis!
🚕 Bagaimana menuju ke sana?
Dapatkan informasi rute (dengan mobil, jalan kaki, angkutan umum, dll), dan banyak lagi, dari aplikasi. Unduh secara gratis!