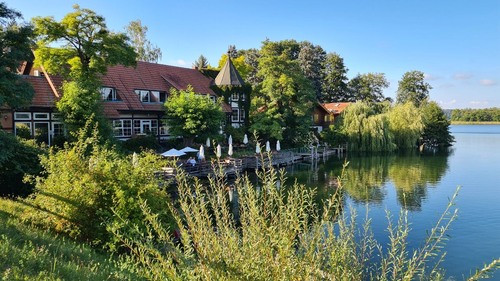 The Altes Zollhaus, located in the Feldberger Seenlandschaft in Germany, is a popular tourist destination with its breathtaking natural beauty. This gem of a location is the ideal destination for nature lovers, offering sprawling forests and picturesque lakes surrounded by a stunning landscape. Located in Mecklanburg-Vorpommern, the area features the largest twin-lake district in Germany. Visitors are invited to take part in various activities such as hiking, boating, mountain biking and swimming, as well as exploring the many nearby attractions. Visitors can also stop by the nearby observation tower which affords a magnificent view of the entire area. Finally, the historic town of Feldberg itself is worth a visit for its quaint old buildings and charming atmosphere. A day spent at the Altes Zollhaus and its surrounding nature is sure to leave lasting memories!
🌦 Informasi cuaca
Dapatkan informasi cuaca, dan banyak lagi, dari aplikasi. Unduh secara gratis!
🚕 Bagaimana menuju ke sana?
Dapatkan informasi rute (dengan mobil, jalan kaki, angkutan umum, dll), dan banyak lagi, dari aplikasi. Unduh secara gratis!