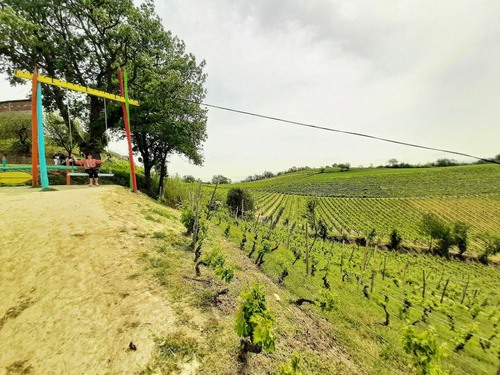 Altalena Gigante is a playground located at Cossano Belbo, in the Piedmont region of Italy. It was designed and built by local artist, Ludovico Bernadini and was inaugurated in 2004.

The main feature of the complex is the 20 meter-high "Altalena Gigante", a breathtaking wooden structure of bells, slides and swings suspended in the air, suspended above the ground. In the same complex, you can find a 5 meter-high tower for children and two exhibitions (one dedicated to the origin and history of the place and the other to Ludovico Bernadini's work). For those who like nature, three kilometers from the playground, there is the Nature Reserve of Belbo. It is worth visiting for its many attractions, such as the 19th-century manor, the old silk-producing factory and a medieval Michelino castle. At the visitor center, you can find the City of Knowledge and Imagination, a place where visitors can learn more about the history and culture of the region. There is also a recreational center with botanical gardens, a wind turbine and a scenic train route overlooking the vineyard hills of Langhe. Every summer, the city of Cossano Belbo holds the "Festa della Burida", a festival where the Altalena Gigante is lit up with colorful lights. This is a great time to visit the playground and the surrounding areas.
🏨 Hostel
🌦 Informasi cuaca
Dapatkan informasi cuaca, dan banyak lagi, dari aplikasi. Unduh secara gratis!
🚕 Bagaimana menuju ke sana?
Dapatkan informasi rute (dengan mobil, jalan kaki, angkutan umum, dll), dan banyak lagi, dari aplikasi. Unduh secara gratis!