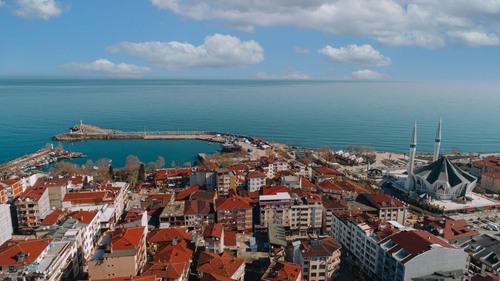 Akçakoca Liman is a picturesque port on the Black Sea Coast of northwestern Turkey. Its natural port has drawn sailors and travelers for centuries, and this remains true today. Visitors can take a leisurely stroll on the wooden walkways and take in the stunning views of the surrounding hills and the Black Sea. Photographers will be delighted by the many opportunities to capture the unique beauty of the area. Whether you're looking to enjoy a quiet day's fishing or you're a historian fascinated by the area's ancient ruins, Akçakoca Liman has something for you. In summer months, there are plenty of relaxing beaches to sit back and admire the sunset. For those seeking more action, there are plenty of exciting water sports to enjoy nearby. Whatever activity you choose, Akçakoca Liman's beautiful seascape is sure to be an unforgettable experience.
🏨 Hostel
🌦 Informasi cuaca
Dapatkan informasi cuaca, dan banyak lagi, dari aplikasi. Unduh secara gratis!
🚕 Bagaimana menuju ke sana?
Dapatkan informasi rute (dengan mobil, jalan kaki, angkutan umum, dll), dan banyak lagi, dari aplikasi. Unduh secara gratis!