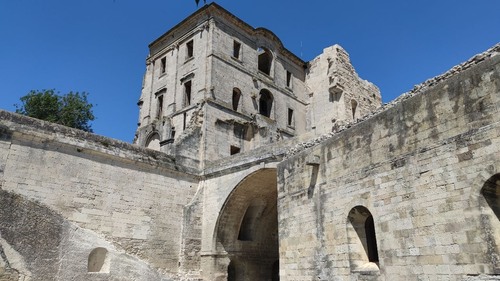 Abbazia di Montmajour is an impressive Romanesque abbey situated in Arles, France. Built in the 10th century, it occupies a commanding hillside location, with sweeping views of the surrounding area. Today, the abbey is open to visitors, who can explore its former monastery church and cloisters and admire the unique, richly-decorated, arcades and remarkable Romanesque capitals. The abbey consists of two large buildings: a main abbey and a annex connected by a small bridge and surrounded by high stone walls. The annex holds a small chapel decorated with frescos and the remains of an old graveyard. The main building features a huge window opening to sweeping views of the flat Provençal landscape and an intricate cloister with heavy columns, a vaulted ceiling and numerous arch-supported flying buttresses. The church on site is also worth a visit and contains original stained-glass windows and a harmonious marble altar. The abbey grounds are also delightful, with neatly-tended gardens and winding paths throughout the ancient complex.
🏨 Hostel
🌦 Informasi cuaca
Dapatkan informasi cuaca, dan banyak lagi, dari aplikasi. Unduh secara gratis!
🚕 Bagaimana menuju ke sana?
Dapatkan informasi rute (dengan mobil, jalan kaki, angkutan umum, dll), dan banyak lagi, dari aplikasi. Unduh secara gratis!