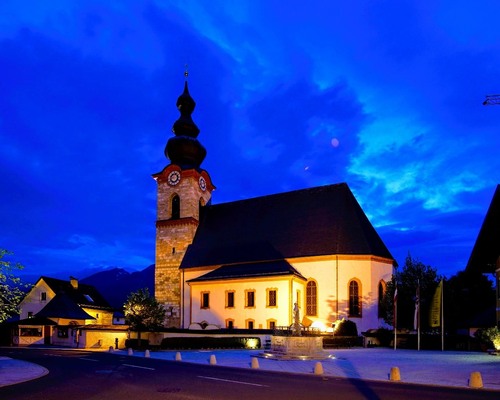 Wallfahrtskirche Großgmain is a pilgrimage church located in the small town of Großgmain in Austria. First built in the 12th century, it was reconstructed in 1595 in the Baroque style, with an impressive fresco covering the inside of the choir. The facade is characterized by the four pilaster strips and 2-storied portal. The area in front of the church provides a pleasant view of the nearby countryside. There is a large, bronze sculpture of St. Philip the Apostle which was commissioned in 1883, and is located at the entrance of the church. Visitors can also explore the old cemetery which is full of many interesting memorials and monuments. The church is a historical and cultural venue where special events, as well as occasional concerts, are held throughout the year.
🏨 Hostales
🌦 Información meteorológica
Obtenga información meteorológica y mucho más desde la aplicación. ¡Descárgalo gratis!
🚕 ¿Cómo llegar allá?
Obtén información de rutas (en coche, a pie, en transporte público, etc), y mucho más, desde la app. ¡Descárgalo gratis!