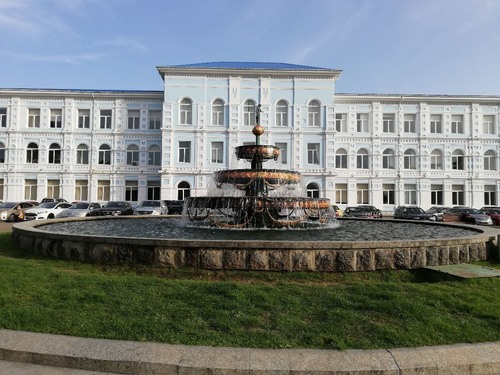 The University Fountain Batumi is an impressive and vibrant sight that lies in the center of Batumi, Georgia. It is made up of complex and colorful geyser system of water spouts, light and music which make up the core of this UNESCO-listed fountain, and it is encircled by low walls and marble staircases that are illuminated along with the fountains within. It is a favorite spot for Batumi citizens to hang out and find a shady spot to take a break from their intense summer days. The massive fountain is located in a park just above the city's beachfront and is surrounded by incredible examples of historic architecture. It makes for a great place to stroll around and just enjoy the beauty of this unique destination. Despite its popularity among locals, the University Fountain is still a new addition to the skyline of Batumi and has been attracting travelers to experience its beauty ever since it was built.
🏨 Hostales
🌦 Información meteorológica
Obtenga información meteorológica y mucho más desde la aplicación. ¡Descárgalo gratis!
🚕 ¿Cómo llegar allá?
Obtén información de rutas (en coche, a pie, en transporte público, etc), y mucho más, desde la app. ¡Descárgalo gratis!