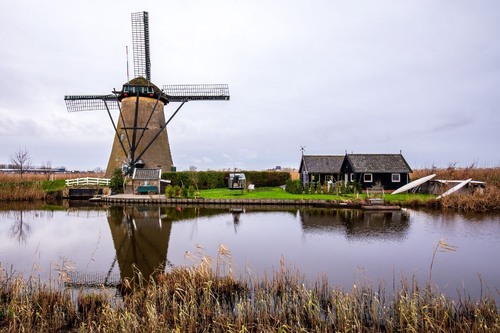 Kinderdijk is a UNESCO World Heritage site and a unique example of 18th century Dutch engineering. Located in Kinderdijk-Elshout in the Netherlands, Kinderdijk is a cluster of 19 windmills located at a distance of one kilometer from each other. The iconic windmills were originally built to pump water from the low-lying polders in the area, saving it from flooding. From here, visitors can see some of the most beautiful landscape views in the Netherlands. The area can be easily explored by walking through the wooden bridge, taking a boat ride, or biking alongside the canals. The buildings and mills in the area are well preserved and worth a visit. Locals also organize special festivals at Kinderdijk each year, so visitors can experience traditional Dutch culture and customs firsthand. There are lots of cafes and restaurants to explore around Kinderdijk as well. So, don't forget to grab a bite while you're here.
🏨 Hostales
🌦 Información meteorológica
Obtenga información meteorológica y mucho más desde la aplicación. ¡Descárgalo gratis!
🚕 ¿Cómo llegar allá?
Obtén información de rutas (en coche, a pie, en transporte público, etc), y mucho más, desde la app. ¡Descárgalo gratis!