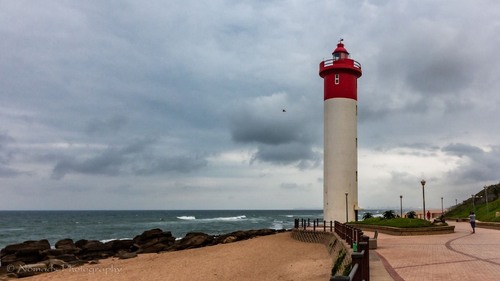 The Umhlanga Lighthouse in South Africa is a beautiful sight to behold. This towering edifice, located amidst the golden sands of the Umhlanga Beach, is a great place to take in stunning views of the beach and Indian Ocean. Built in 1952, the beacon serves to protect sailing vessels against shallow rocks, with its light reaching a distance of 15 miles. The exterior of the white-painted lighthouse features traditional black and red bands that give it a classic Cape Town aesthetic.

Surrounding the lighthouse is a pleasant picnic area which provides wonderful views of the ocean, and plenty of green space for relaxation. This is a great spot to observe sunrise and evening sunset. With panoramic vistas, tranquil beaches, and the lighthouse itself, Umhlanga Lighthouse is an ideal destination for photographers looking for something different.
🏨 Hostales
🌦 Información meteorológica
Obtenga información meteorológica y mucho más desde la aplicación. ¡Descárgalo gratis!
🚕 ¿Cómo llegar allá?
Obtén información de rutas (en coche, a pie, en transporte público, etc), y mucho más, desde la app. ¡Descárgalo gratis!