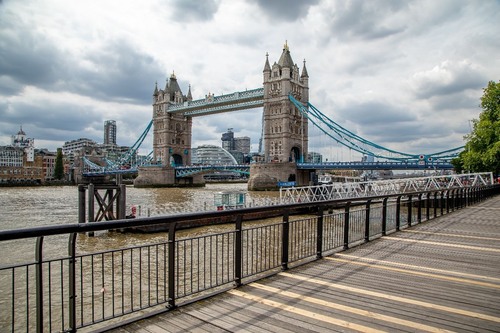 Tower Bridge is an iconic landmark in greater London, United Kingdom, connecting the districts of Tower Hamlets and Southwark. Built between 1886 and 1894, it is a suspension bridge with two towers connected by two horizontal walkways. It is 244m long and has drawbridges to allow maritime traffic pass through the River Thames. From the top of the Tower Bridge you can admire the London skyline and get stunning panoramic views. It is one of the most photographed places in London and has even been featured in many film and TV scenes. Visitors can take a guided tour of the Tower Bridge and its exhibition and visit the two towers with many interactive displays about its construction. Open every day, the bridge is also illuminated at night.
🏨 Hostales
🌦 Información meteorológica
Obtenga información meteorológica y mucho más desde la aplicación. ¡Descárgalo gratis!
🚕 ¿Cómo llegar allá?
Obtén información de rutas (en coche, a pie, en transporte público, etc), y mucho más, desde la app. ¡Descárgalo gratis!