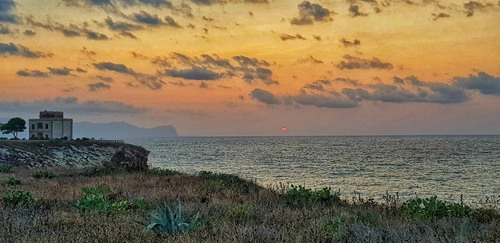 Situated between the sea and a forest of olive trees, the Torre Alba - Torre Fanara is a place of breathtaking beauty and steeped in history.

Torre Alba is located in the seaside town of Terrasini in the Sicilian province of Palermo. The tower, built in the late 18th century, sits atop a hill overlooking magnificent views of the Tyrrhenian Sea. Its location offers incredible views of the coast and mountains to the south. The Torre Fanara is the smallest and oldest of the two towers. It is a two-story tower with a flat roof and a balcony that offers panoramic views of the landscape. Terrasini has plenty to explore, including charming narrow streets, Byzantine churches, and archaeological sites. Spend an afternoon exploring the lively marketplace and get a taste of local culture. Make sure to make a stop at the beautiful beach of Sferracavallo, where you can lie back, relax, and enjoy the sunshine. The infinite beauty of this region will captivate you and leave you wanting more.
🌦 Información meteorológica
Obtenga información meteorológica y mucho más desde la aplicación. ¡Descárgalo gratis!
🚕 ¿Cómo llegar allá?
Obtén información de rutas (en coche, a pie, en transporte público, etc), y mucho más, desde la app. ¡Descárgalo gratis!