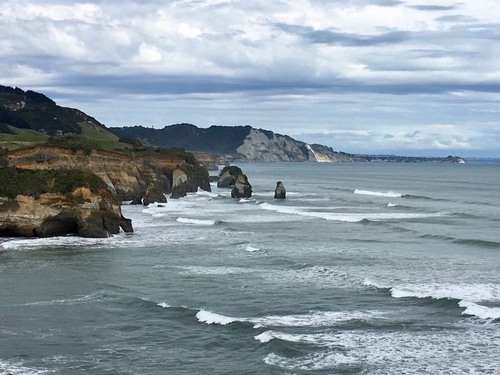 The Three Sisters Coastline in Tongapōrutu, New Zealand is a spectacular series of rocky islands and surreal land formations. Its unique layered pedestal rocks are formed by a combination of wave action and centuries of erosion. From the rocky coastline, the Three Sisters Lookout provides an unparalleled view of the area where you can admire the rocky coastline and deep blue sea. The Tongapōrutu area is home to abundance of lush green vegetation and beautiful wild flowers which makes this a tranquil and serene setting for most visitors. Wildlife such as Hectors Penguin colony and fur-seals can also be seen from the lookout. Whether you enjoy hiking or simply taking in the view, a trip to Tongapōrutu is sure to take your breath away.
🏨 Hostales
🌦 Información meteorológica
Obtenga información meteorológica y mucho más desde la aplicación. ¡Descárgalo gratis!
🚕 ¿Cómo llegar allá?
Obtén información de rutas (en coche, a pie, en transporte público, etc), y mucho más, desde la app. ¡Descárgalo gratis!