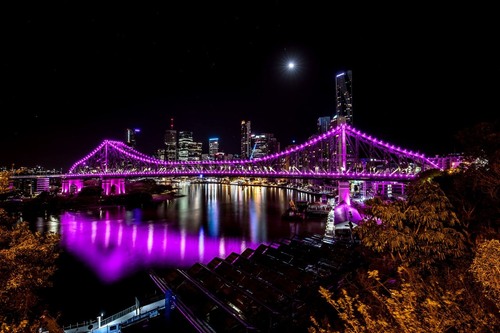 The Story Bridge & Brisbane Skyline are beautiful attractions in New Farm, Australia. Built in 1940, the Story Bridge is a heritage-listed steel cantilever bridge spanning the Brisbane River. The Brisbane Skyline, meanwhile, is a stunning view of the city's skyline and its surrounding suburbs, with the Story Bridge creating a dramatic silhouette against the changing cityscape. Both attractions are popular with visitors to the area, who come to marvel at the majestic views or to experience the range of activities the area has to offer. From walking and cycling trails to picnic areas, cafes and bars, you can experience Brisbane's vibrant culture up close. For a unique experience, why not join one of the many cruises or ferry trips under the bridge and explore the river?
🏨 Hostales
🌦 Información meteorológica
Obtenga información meteorológica y mucho más desde la aplicación. ¡Descárgalo gratis!
🚕 ¿Cómo llegar allá?
Obtén información de rutas (en coche, a pie, en transporte público, etc), y mucho más, desde la app. ¡Descárgalo gratis!