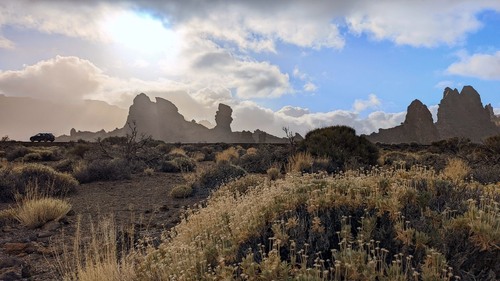 TOP
Take in some breathtaking vistas as you explore Sendero Roques de García, a hiking trail in Santa Cruz de Tenerife, Spain. Starting at the Parador de Cañadas del Teide, the magnificent trail leads to the top of Roques de García, the volcanic remnants of the area. The path includes stunning panoramic views of craggy canyons and unique rock formations, and is clearly marked for any adventurous explorer. You won't want to miss the incredible sunrises and sunsets, with the rugged landscape illuminated in beautiful golden hues. Be prepared for a challenging but rewarding three-hour journey to the top, complete with plenty of stops to admire the landscape. Make sure to bring sturdy, comfortable shoes, plenty of water, and a camera.
🏨 Hostales
🌦 Información meteorológica
Obtenga información meteorológica y mucho más desde la aplicación. ¡Descárgalo gratis!
🚕 ¿Cómo llegar allá?
Obtén información de rutas (en coche, a pie, en transporte público, etc), y mucho más, desde la app. ¡Descárgalo gratis!